Get connected in Chile
Click here to email our country contact in Chile
September 2022: Chile votes against progressive constitution - click here to read WDI's statement on the rejected constitution.
WDI statement of support: December 2021
On 25 November 2021, a small group of Chilean radical feminists coordinated by FRESA (Radical Feminists in Santiago) participated in the annual demonstration organised to commemorate the International Day for the Elimination of Violence against Women.
The activists were verbally attacked, insulted and called transphobes by a group of pro "sex work" liberal "feminists" for carrying a sign saying: "Adult Human Female" and citing statistics about victims and survivors of prostitution. One radical feminist was also physically attacked and some of the pamphlets which she was distributing were torn up. It is fortunate that the violence did not escalate any further.
WDI stands in solidarity with our Chilean sisters. Article 8 of the declaration affirms the need for the elimination of violence against women and children. The ongoing attacks on activists who defend women's sex based rights are concerning, particularly in the light of the deafening silence from mainstream, local feminist organisations. As stated in article 5, women's rights to peaceful assembly and freedom of association with others should also be safeguarded. Women have the right to organise and protest without fear of harassment and violence.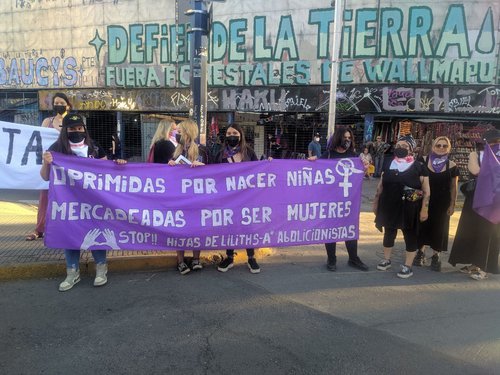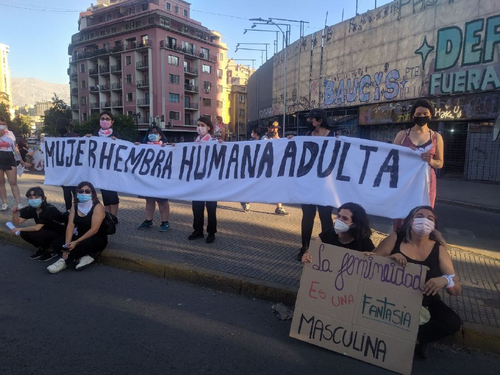 'Gender identity' laws
In Chile since December of 2019 we have a law that guarantees no discrimination on the basis of 'gender identity' and regulates the change of name and legal sex. People can apply for a sex change from the age of 14. The law guarantees that trans-identified people will be treated with dignity and respect. It bans discrimination against trans-identified people and recognizes the progressive autonomy of girls, boys and teenagers.